Focus vs Freedom — Comparing Website Blockers
  and  

Productivity tools are constantly evolving. We believe the following information is correct based on data from February 2020.
Focus and Freedom are two of the most popular distraction blockers. If you're distracted by Facebook, Twitter, or YouTube, these apps can block the website to help keep you productive.
Full-disclosure—we run Focus, but we are committed to transparency. Since we've done our website blocker research, we're able to compare blocker strengths and weaknesses to help you make the choice that's best for you.
The Short Version
Focus is designed specifically for MacOS users. Freedom is available for Mac, Windows, Android, iOS, and Chrome.
Focus is a formidable website blocker with innovative platform-specific features designed for Mac. If you're looking for more than just website blocking, Focus comes with a suite of productivity management features, including scripting, Pomodoro integration, scheduling, customizable sessions, and more. Focus offers a lifetime purchase for only $19.
Freedom is also a powerful website blocker with the ability to sync your blocking across all of your devices. This way, the distractions you've blocked on your laptop won't come back to haunt you through your smartphone. Freedom offers a monthly subscription for $6.99 or a yearly subscription for $29.
Block Distracting Websites and Apps
Both Focus and Freedom are designed to block distracting websites.
Focus blocks by URL, so you can block full websites or specific webpages. Block all of Facebook, except for your work page. Or block all of Reddit, except for the few subreddits that are productive. Focus offers the ability to block any app on your Mac, including browsers, games, and more.
Freedom can block at both the network level or higher up on the browser level by using "non-proxy mode." Users are able to choose which method they prefer, which means you can tailor Freedom to block network access inside applications or by the URL to block full websites or specific webpages.
To find non-proxy mode, you'll need to dig into Advanced features.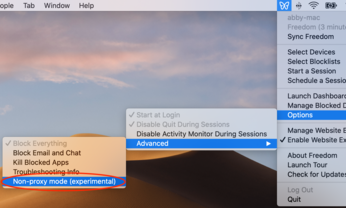 Not all browsers work with Freedom's non-proxy mode. Check their list of supported browsers to be sure your favorites are supported. If your browser is not on the list, you'll need to switch browsers or stick with blocking at the network level.
Freedom can block desktop apps on Mac, Windows, and mobile. Freedom allows for two modes of blocking—you can kill the app or hide the app.
Price
Focus is a paid tool available in 3 pricing tiers. All pricing tiers are a one-time cost, so you won't need to pay any monthly or yearly fees after purchasing.
Productivity mode: $19
Professional mode: $39
Unlimited mode: $129 (comes with one-time productivity coaching)
The website blocker fee grants the user access to a suite of other productivity features such as scripting, Pomodoro integration, motivational quotes, and statistics.
Freedom is a subscription-based tool available at monthly or yearly rates, and it comes with an option to purchase Freedom forever.
Monthly: $6.99
Yearly: $29
Freedom Forever: $129
Scheduling
Focus and Freedom are both able to set up schedules to help you build discipline around your productivity.
Focus enables you to create a disciplined schedule for your workweek or choose a few hours a day when you want to get engaged in deep work. Simply "Add schedule" and indicate the date and time you want to initiate your blocklist. You can choose from Every Day, Weekends, Weekdays, or any specific day of the week to create unlimited custom schedules.
With Focus, you can also easily integrate with Pomodoro Timers that enable productivity in short sprints.
🍅 How to Master the Pomodoro Timer for Ultimate Time Management
Freedom has several block lists, and you can select which devices you want to include in your schedule. You can decide what you want to block by the day or schedule blocks in advance that will begin automatically at the time of your choosing. You can also create recurring blocks to help you make productivity a habit.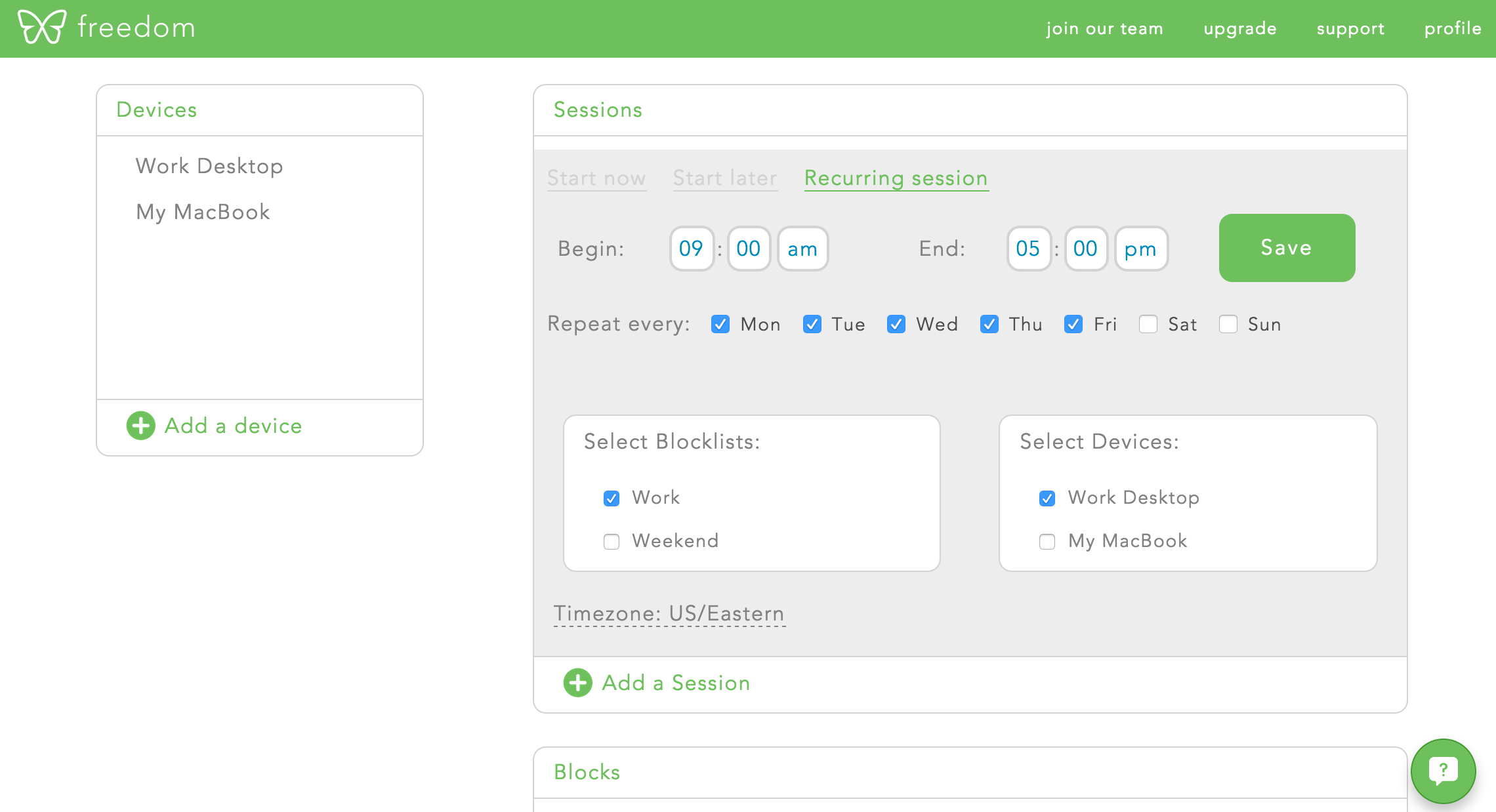 Whitelist
Both Focus and Freedom offer a whitelist function. A whitelist is the opposite of a blacklist, which means instead of choosing which website you want to block, you do the opposite and choose which websites you want access to. Essentially, you block the entire internet except for the list of websites you specify you want access to.
If you're still distracted and need a break or boost of focus, block the entire internet with the click of a button.
Locked Mode and Hardcore Mode
Both apps offer a handy feature for locking schedules and timers once they start, which ends up being an important feature when trying to break digital addictions to social media, gambling, porn, or just procrastination. By engaging Locked Mode on Freedom or Hardcore Mode on Focus, schedules and timers are forced to finish—with no workaround. Be careful when using these modes!
Click "Locked Mode" in the Freedom dashboard to enable.
Lock preferences during timed sessions by choosing "Hardcore mode" in Focus General settings.
Focus also has a unique feature that allows you to lock your preferences with a password. This is useful when you need an extra push, perhaps by letting a friend or family member set a password. In this mode, preferences are locked once a password is input and can only change once the password is reentered. Focus preferences are locked while the password has not been entered.
Statistics
Focus and Freedom both have minimal tracking capabilities.
Focus has a statistics feature that tracks the amount of time the app was used for in weekly, monthly, or yearly stats that can help you assess your time spent online.
Freedom offers a statistics feature via their session history tab that allows you to track and annotate your accomplishments and milestones. You can also access the statistics feature via their Insight plugin.
Freedom Offers Syncing Across Devices
Distractions aren't specific to the device you're currently working on. Even if you've blocked every distraction on your laptop, you can still become distracted by your smartphone. Freedom allows you to sync your blocks across all of your Mac, Windows, Android, iOS, and Chrome devices, so the same addictive app you've blocked on your computer won't be able to steal your attention away via your phone.
Focus Offers Motivational Quotes
Should you give in to your temptation and click on a website you've previously blocked, a motivational quote will appear to remind you to get back to work. You can customize the motivational quotes you see to include a classic line from your favorite song, movie, or book. "I can't carry it for you… BUT I CAN CARRY YOU!"
Focus Offers Scripting
Focus has one hidden superpower called scripting. With it, Focus can do almost anything. It can integrate with Slack, change your Skype status, play a Spotify playlist, and a lot more.
You can also control Focus from other apps to make it a critical piece of your productivity stack. Learn more about scripting with Focus.
Verdict
Choose Focus if you're a Mac user and if you use the Terminal. Scripting turns Focus into a powerful productivity tool that can help you do just about anything. If your budget is tight, Focus offers a lifetime purchase for only $19 compared to $129 for a lifetime purchase of Freedom.
Choose Freedom if you work on Windows or if you want to block distractions across multiple devices. Freedom offers app blocking on mobile and can sync preferences across each of your devices.
We believe Focus is the best distraction blocker for Mac. We aim to make Focus a simple and powerful ally in your pursuit of productivity. Get started with a free 7-day trial of Focus. If cost is an issue because you are a student or for another financial reason, please contact us, and we will do what we can to provide a discount.
Keep Your Focus
We have a bunch of online resources that will help you master your productivity.
💻 The Consequences of Distraction: Why You Need to Block Distracting Websites
🖥 10 Productivity Techniques That Will Help You Get More Done In Less Time
Posted on February 18, 2019
---
Drowning in distractions? They're chipping away at your productivity and focus. Fight back with Focus, the macOS app designed to block distractions and keep you on track. Regain your focus, achieve your goals, and find balance. Give Focus a try and see the difference it makes!

Download Focus
Try Focus free for 7-days!