Productivity tools are constantly evolving. We believe the following information is correct based on data from October 2019.
Focus and SelfControl are two popular website blockers that help manage distractions. If your attention is torn between the news, social media, games, or anything else online, these apps will block those distractions to help keep you focused and productive.
Full disclosure—we run Focus, but we feel strongly about transparency. We know a lot about website blockers, so we're able to compare blocker strengths and weaknesses to help you make the best choice for you.
Compare Other Website Blockers
The Short Version
Both Focus and SelfControl are designed specifically for MacOS users.
Focus is a powerful website blocker that's capable of advanced platform-specific features. Choose Focus if you are looking for a suite of productivity management features, including customizable sessions, scheduling, Pomodoro integration, scripting, and more. These added features come at a one-time cost.
SelfControl is a completely free open source project that requires no commitment to use. Choose SelfControl if you are looking for a simple website blocker that's free to use or if you want to block at the network level.
Block Distracting Websites
Both Focus and SelfControl are designed to block distracting websites.
With Focus, you can block websites by their URL to avoid full websites or specific webpages. For example, you could block all of Twitter except for a business page you need for work. This ability gives you more flexibility to customize your ideal blocklist.
SelfControl blocks all sites that run on the same servers as a website on your block list. For some larger sites, you may be surprised by what ends up blocked if you try to access an offshoot site run on the same server. The benefit of blocking at the network level is that it can block network access inside applications, such as preventing the Mail client from updating. The downside is that you cannot grant exceptions if there happens to be a subsection of Reddit you find useful for your work.
💡 The Consequences of Distraction: Why You Need to Block Distracting Websites.
With SelfControl, you move a slider to decide how long you want to block your designated websites. You can choose 15 minutes all the way up to one whole day, but you can only change it by 15-minute increments: 15, 30, 45, 60, etc.. Some tweaking is possible in Terminal, but if you make a mistake, SelfControl will not launch.
Focus has a default start time of 25 minutes, but you can customize your default start time with a click of a button to create your desired "Custom Focus." This could be a deciding factor if you want to choose the length of your work session with more flexibility than 15-minute increments.
Whitelist
Both Focus and SelfControl offer a whitelist function. This means instead of choosing which website you want to block, you do the opposite and choose which websites you want access to. Essentially, you block the entire internet except for the list of websites you specify you want access to.
Proceed with caution when setting this up because after you do, you won't be able to access the majority of the internet. If you need something quick from a website you didn't whitelist, you will have to wait until your distraction time limit is up.
SelfControl has an option to choose whitelist over blacklist in the area where you add the domains you want blocked. It's a one-click button, so they offer a warning in case you choose it by mistake.
Focus blocks all of the sites included in its blacklist by default. Follow our allowed sites instructions for how to create a whitelist instead.
Price
Is price your deciding factor? If you are looking for a free tool, SelfControl offers just that. It's a free, open-source application that's available to anyone using macOS. Download SelfControl for free anytime to begin using the tool in seconds.
Focus is a paid tool that requires a one-time fee. There are 3 available pricing tiers: Productivity mode for $19; Professional mode for $39; and Unlimited mode, which comes with one-time productivity coaching, for $129. The website blocker fee also grants the user access to a suite of other productivity features. You'll receive updates for a year after the date of purchase, including any new features that get released as well as bug fixes. Try Focus with a 7-day free trial.
Paid Features
For the one-time cost of Focus, you gain access to a long list of productivity features. These may or may not be features you need or will use. Consider whether you are looking for a suite of productivity features or if you just want a bare bones website blocker. Focus can handle the bare bones stuff too, but if you don't want other features and are looking for a free solution, SelfControl may be the best choice for you.
The following features are included in the one-time cost of Focus.
Scripting: Focus has a hidden superpower—scripting. It enables Focus to do almost anything. Focus can integrate with Slack, play Spotify, change your Skype status, and much more. You can also control Focus from other apps, making it a critical piece of your productivity stack. Plus, you can activate Focus from the Terminal if you prefer working with that interface. Learn more about scripting with Focus.
Scheduling: Set schedules for the times of the day you want to be productive. Focus will block distracting websites at those times to help you gain more discipline around your work.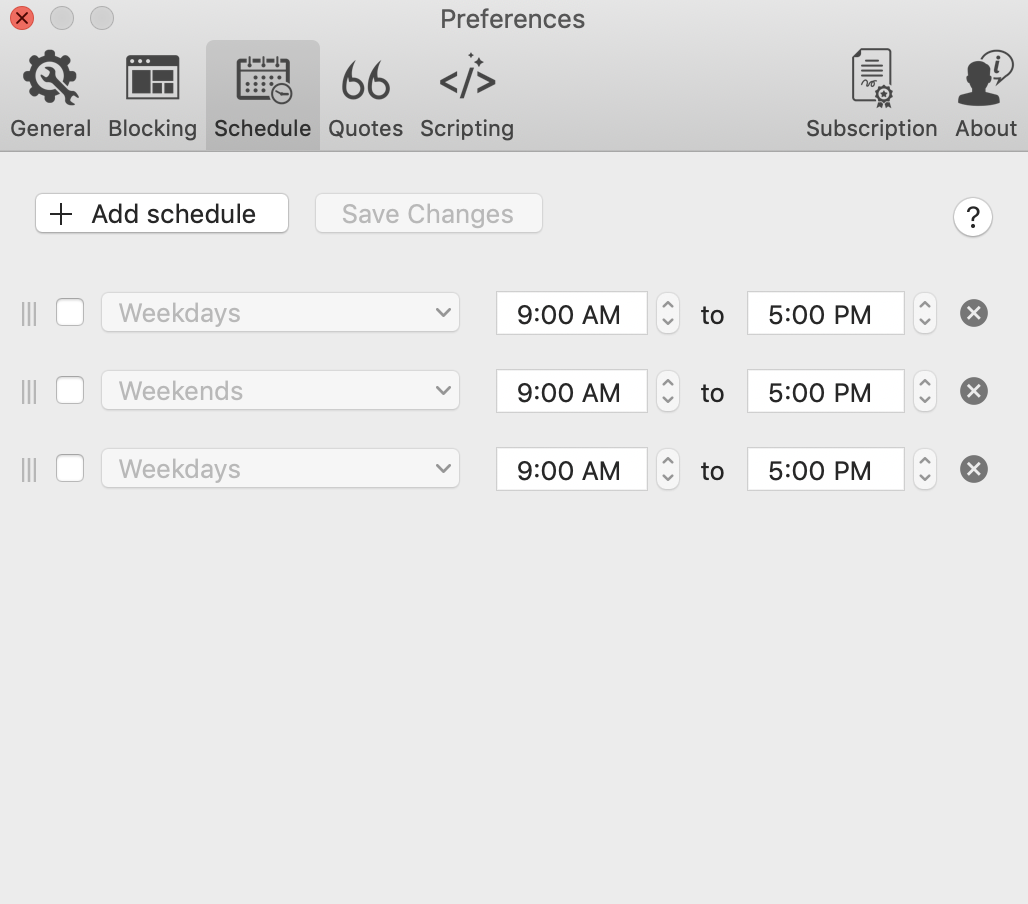 Motivational Quotes: If temptation gets the better of you and you click on a distracting website, one of a selection of motivational quotes will appear to remind you to get back on task. (You can customize the quotes you see to include favorite songs, books, or movies. Do or do not. There is no try.)
Pomodoro: Focus offers a Pomodoro Timer integration that prevents burnout using short intervals. A Pomodoro timer, whether physical or an online resource, can help you manage productive bursts of focus by separating work time and break time.
🍅 How to Master the Pomodoro Timer for Ultimate Time Management
Statistics: Focus has a statistics feature that tracks the amount of time the app was used for in weekly, monthly, or yearly stats that can help you assess your time spent online.
Verdict
Choose Focus if you want and will utilize its advanced platform-specific features, or if you work from the Terminal. Scripting is what sets Focus apart from other website blockers, making it an important tool in your productivity stack.
Choose SelfControl if you don't mind blocking full websites at the network level. SelfControl is also a good option if you only need basic website blocking features and are looking for an option that's completely free to use.
We believe Focus is the best distraction blocker for Mac. We aim to make Focus a simple and powerful ally in your pursuit of productivity. Get started with a free 7-day trial of Focus. If cost is an issue because you are a student or for another financial reason, please contact us, and we will do what we can to provide a discount.