As a productivity assistant, Focus offers many features to help you gain control of your productivity. From blocking distracting websites and apps to scheduling Focus and Pomodoro Timers.
Even features like Hardcore Mode make it so that when a Focus session starts, it always finishes.
But what happens after a Focus session finishes? That's where Password Protection comes in.
With Password Mode, Focus can lock down your preferences so you cannot change them.
This lets you set up your perfect productivity routine, and freeze it so you can't change it. Don't worry though, you can still add new distractions and when you enter the password, you can still make changes.
Here's how to set it up.
Website Blocker with Password
To get started, click the Focus menubar icon, then select Preferences in the drop-down menu.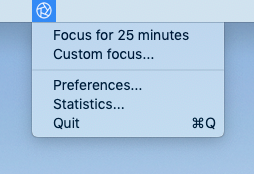 Then select the General panel from Focus Preferences, Focus should look like this: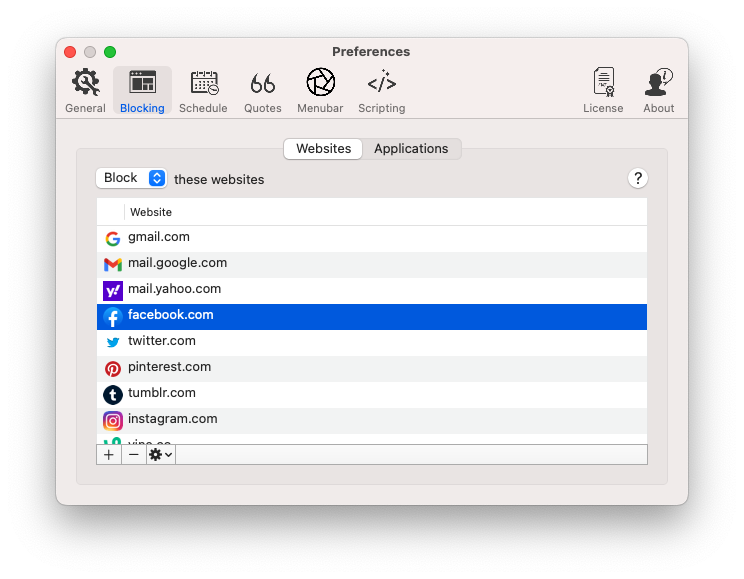 Enable Password Mode by clicking Lock preferences with a password.
You'll be prompted for a password twice to confirm.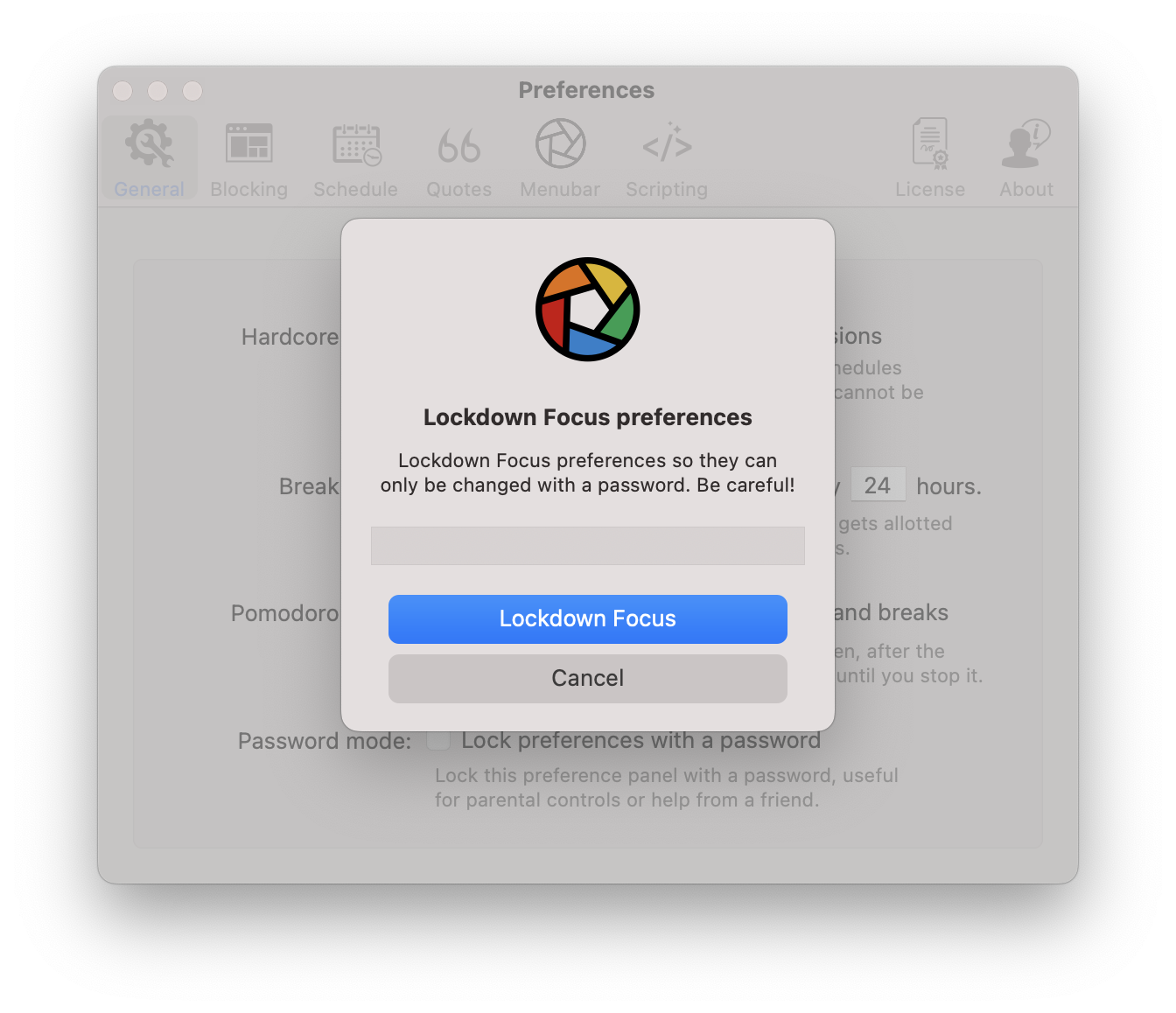 Now to change any Focus preference, you'll have to enter the password before you can make any change.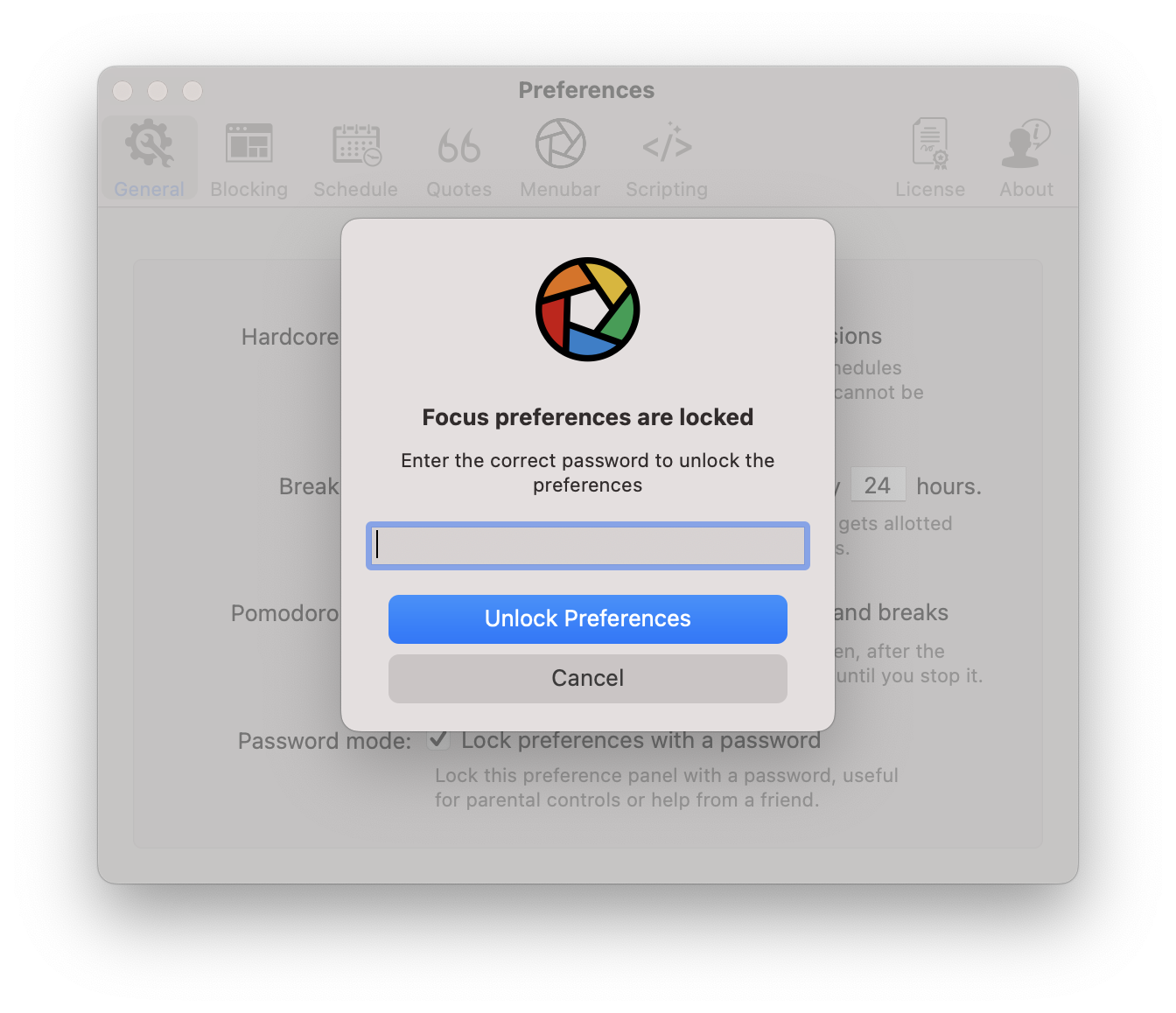 With Password Mode, Focus goes from a helpful productivity tool to an extreme productivity enforcer. When you need an extra push to seriously block websites, password-protecting Focus can be a great way to keep distractions away.
How to Password Protect the Internet
Now that you've got password protection set up, you can fine-tune your website blocking to password protect only the websites you want.
With Allowed Websites, you can password protect the entire Internet.
With Hardcore Mode you can setup Focus schedules that run at specific times. And with password protected Focus preferences, the schedule cannot be changed!
You can even set up breaks, which allow a certain amount of free time, without being able to change the productivity routine.
Password Protect works best with a friend or family member.
For Parental Controls, setting up Focus and password protection is one of the best ways to ensure children have a positive and productive Internet experience.
In extreme cases, you can enter a random password that you don't know. We don't recommend this, but it's an option.
How to turn off Password Mode
Turning off password mode is as simple as entering the password, and then unchecking Lock preferences with a password in General Focus Preferences.
If you don't know your password, ensure the spelling (capitalization matters) is as accurate as possible.
If you can't figure it out, please contact [email protected] and we can help you out.
What's Next
Focus aims to fit into your productivity routine. That's why it works on every major web browser like Safari and Google Chrome. It can block specific websites, groups of web pages, notifications, apps and more.
Focus supports a block list and allow list enabling any kind of distraction blocking you can imagine.
Now that you've learned how to lock down Focus with a password, learn how to set up a global hotkey that lets you start Focusing whenever, wherever you may be on your Mac.