Now that you've installed, learned how to use Focus and learned how to block websites you're ready to block the remaining distracting applications on your Mac.
Focus is incredibly good at blocking specific apps that are distracting so you can stay productive.
To get started, click the Focus menubar icon, then select Preferences in the drop-down menu.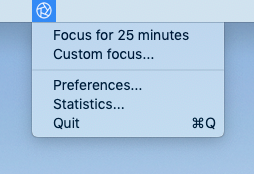 Then select the Blocking panel from Focus Preferences, then select the Applications tab. Focus should look like this: